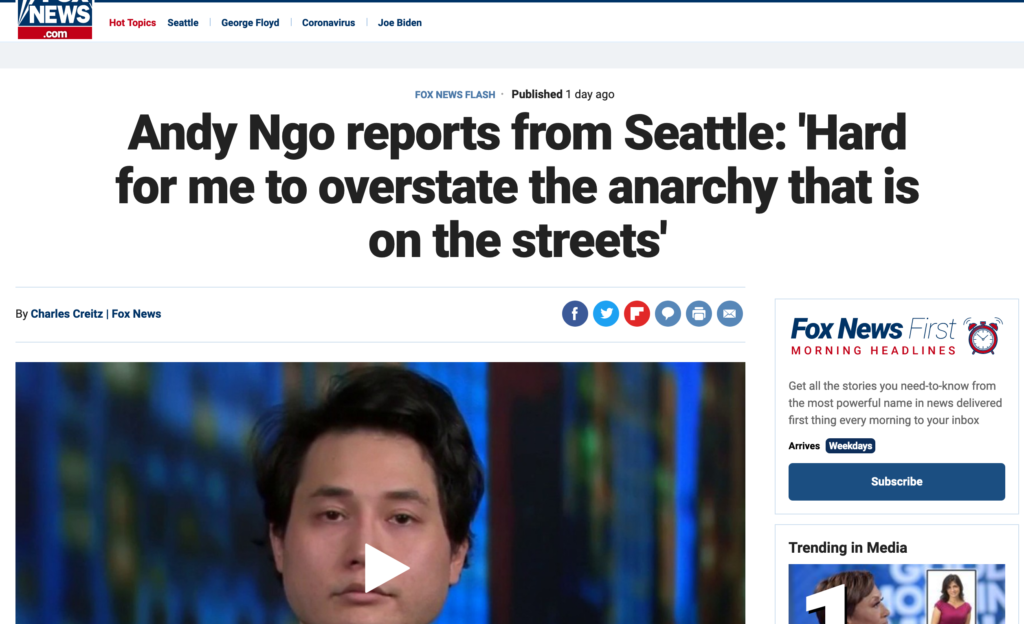 The Post Millennial editor-at-large Andy Ngo told "The Story" Thursday that it was "hard for me to overstate the anarchy that is on the streets" of Seattle following the establishment of an "autonomous zone" by anti-police protesters in the city's Capitol Hill neighborhood earlier this week.
"You have here a group of several hundred people who have laid siege to a territory and have claimed it as a separate political entity from the United States," Ngo told host Martha MacCallum.
"And, aside from images of then dancing and having a good time, they also have people going around who are armed and acting as security, and also border checkpoints. So to go through, you have to go through these physical barriers that have been set up, and it is complete anarchy, because the police precinct has been boarded up, the police have abandoned it."
---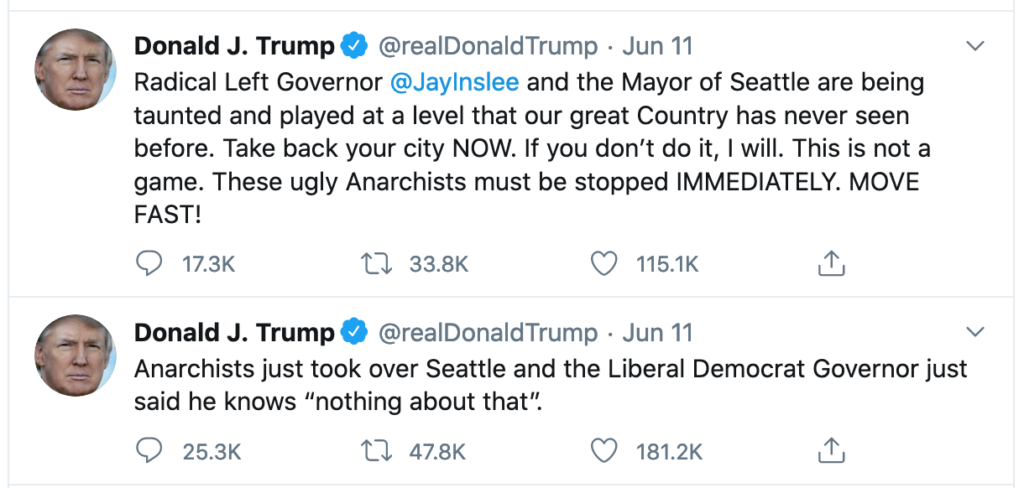 ---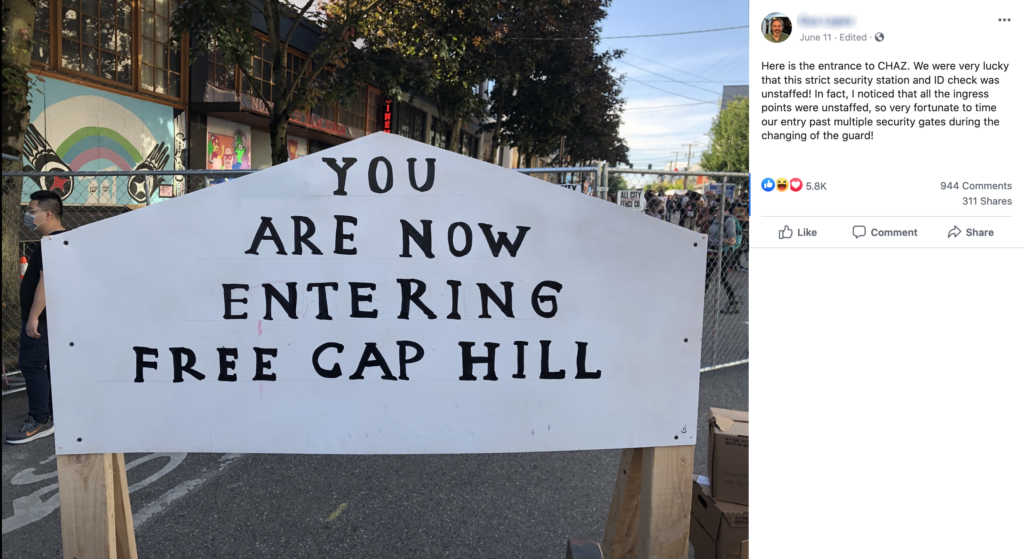 ---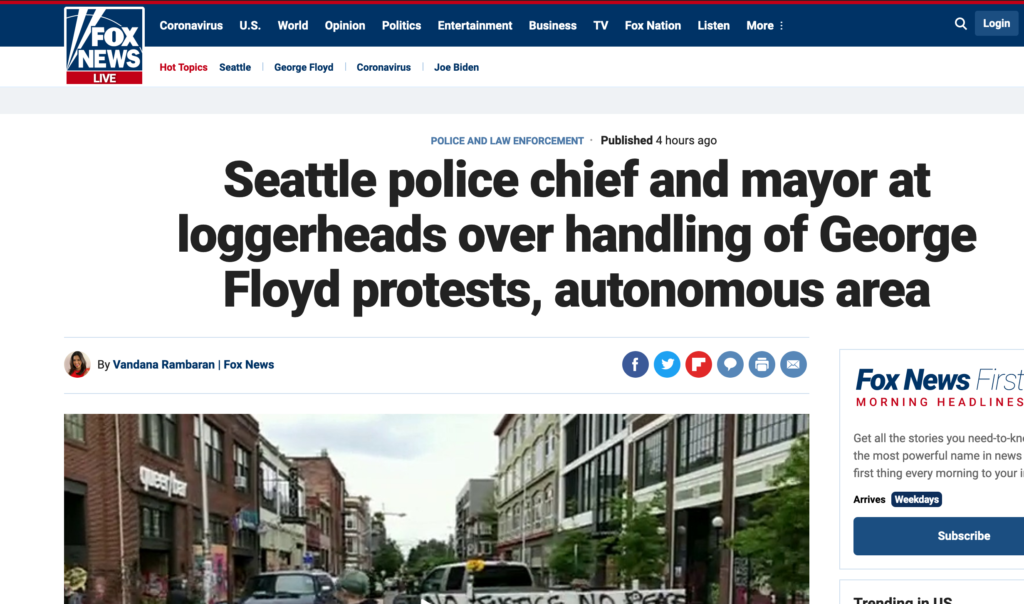 Seattle Mayor Jenny Durkan and police chief Carmen Best are at odds over the city's handling of the self-declared autonomous zone set up by protesters spanning several blocks surrounding a police precinct.
Best has accused the mayor of shirking her responsibilities as an elected official and allowing protesters to oust police officers from a precinct located inside the 6-block radius now deemed a "cop free zone."
Demonstraters inside the perimeter of the "Capitol Hill Autonomous Zone" – or "CHAZ" – have battened down for almost a week decrying police brutality after the death of George Floyd in Minneapolis and are demanding the city abolish the Seattle Police Department.
…
Durkan has drawn national outrage from law enforcement officials as well as President Trump who has repeatedly lambasted her handling of the protester takeover in downtown Seattle and demanded she restore "law and order."
In an appearance on CNN, Thursday, Durkan was pressed on how long she anticipates the city remain a police free zone with "CHAZ" supporters at the helm.
"I don't know, we could have a summer of love," she said in response.
…
She stressed that officers have been unable to respond to calls for help inside the autonomous zone.
"Our calls for service have more than tripled," Best said. "These are responses to emergency calls — rapes, robberies, and all sorts of violent acts that have been occurring in the area that we're not able to get to."
---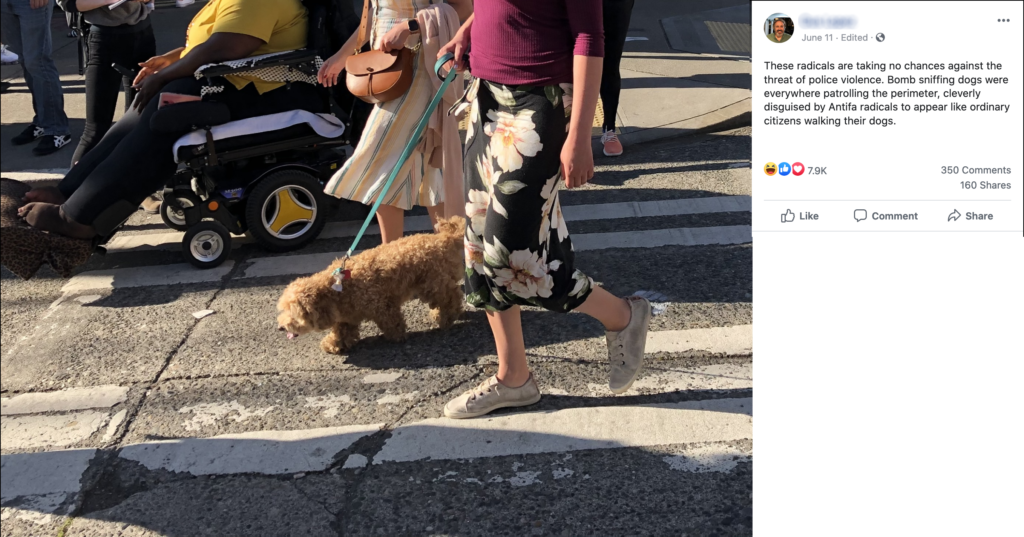 ---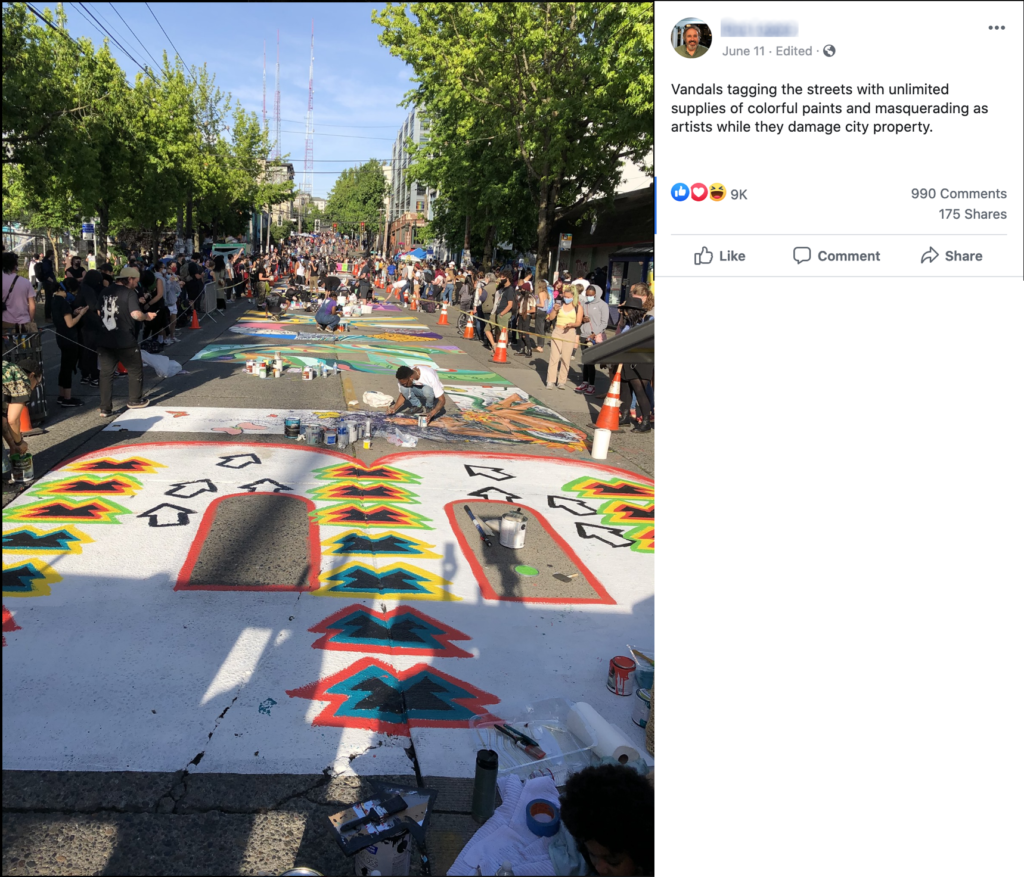 ---

---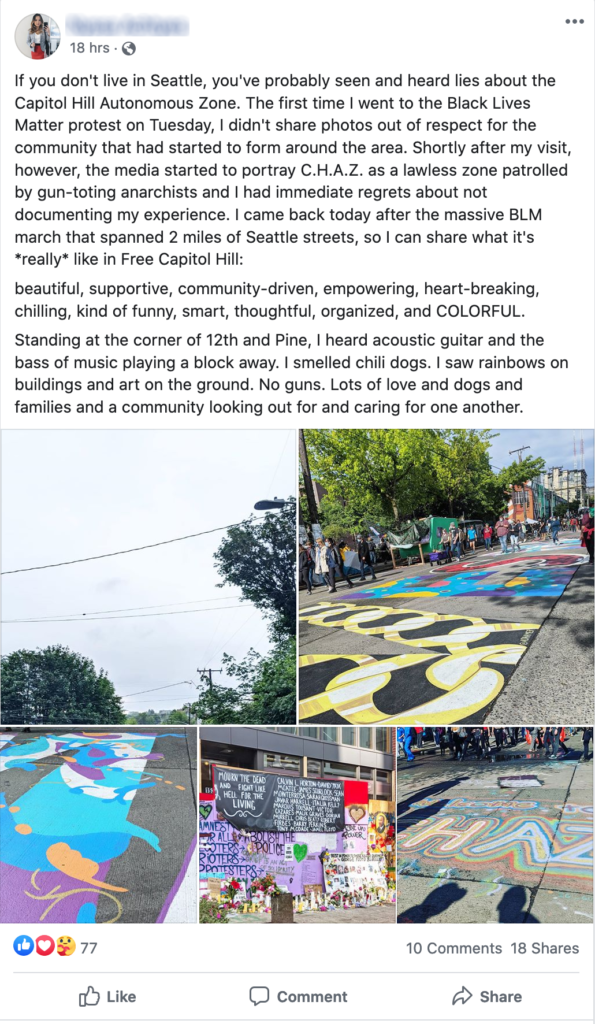 ---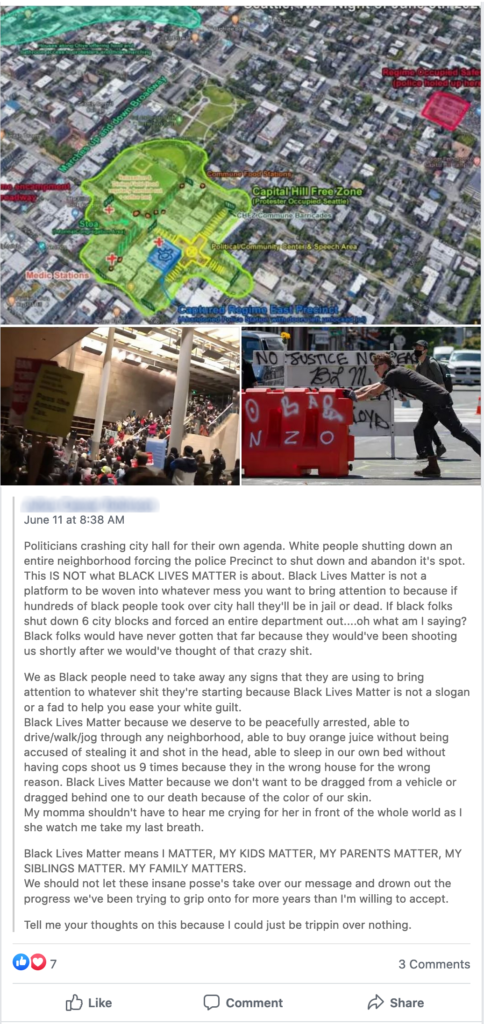 ---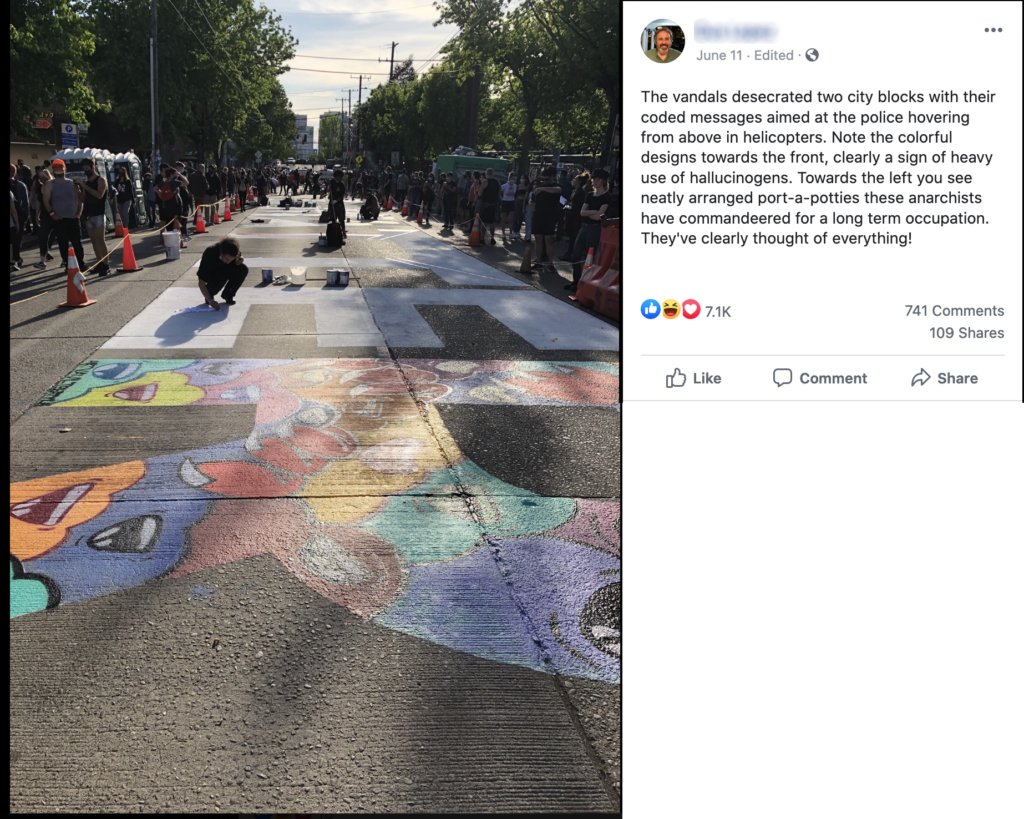 ---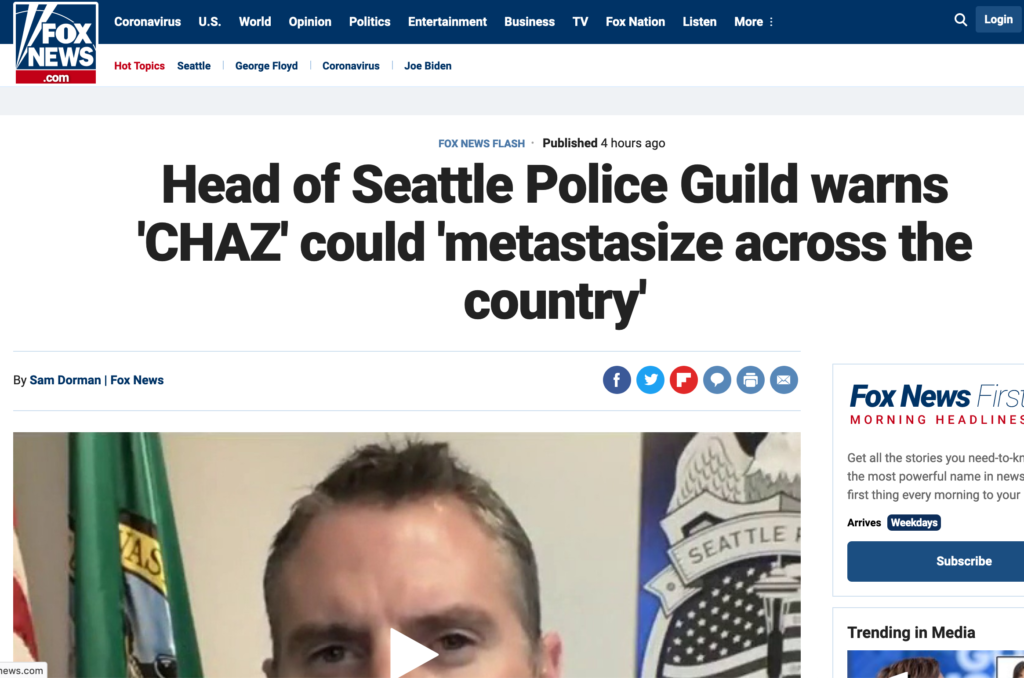 Seattle Police Officers Guild President Mike Solan warned about the need for strong political leaders as the no-police zone in his city could be replicated in others.
"This is very concerning and I think it should have everybody across the country deeply concerned because this could metastasize across the country," Solan said during "Cavuto Live" on Saturday.
"It's quite clear that City of Seattle elected officials are lacking the political will to enforce the rule of law. And this is the closest I've seen since being a 20-year professional in public safety service of our country becoming a lawless state."
He added that the people "that have taken and basically stolen the George Floyd protest message are now using it to benefit themselves and holding the rest of the reasonable citizens of Seattle hostage. It's absolutely unacceptable."
---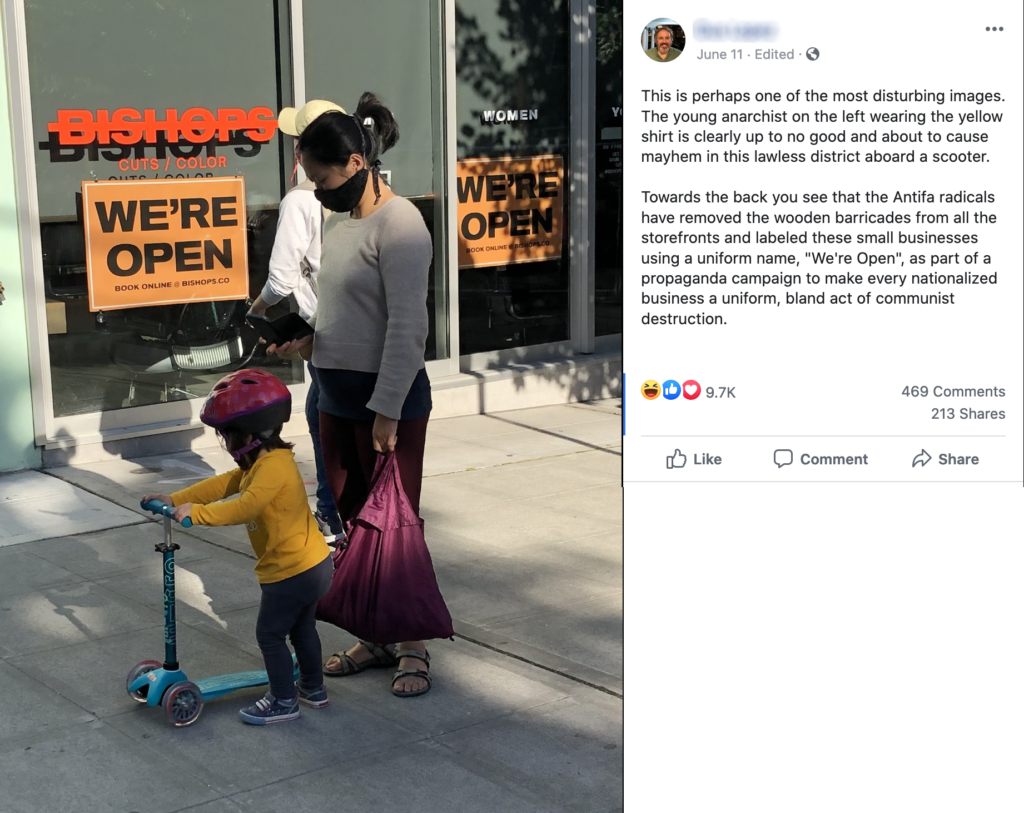 ---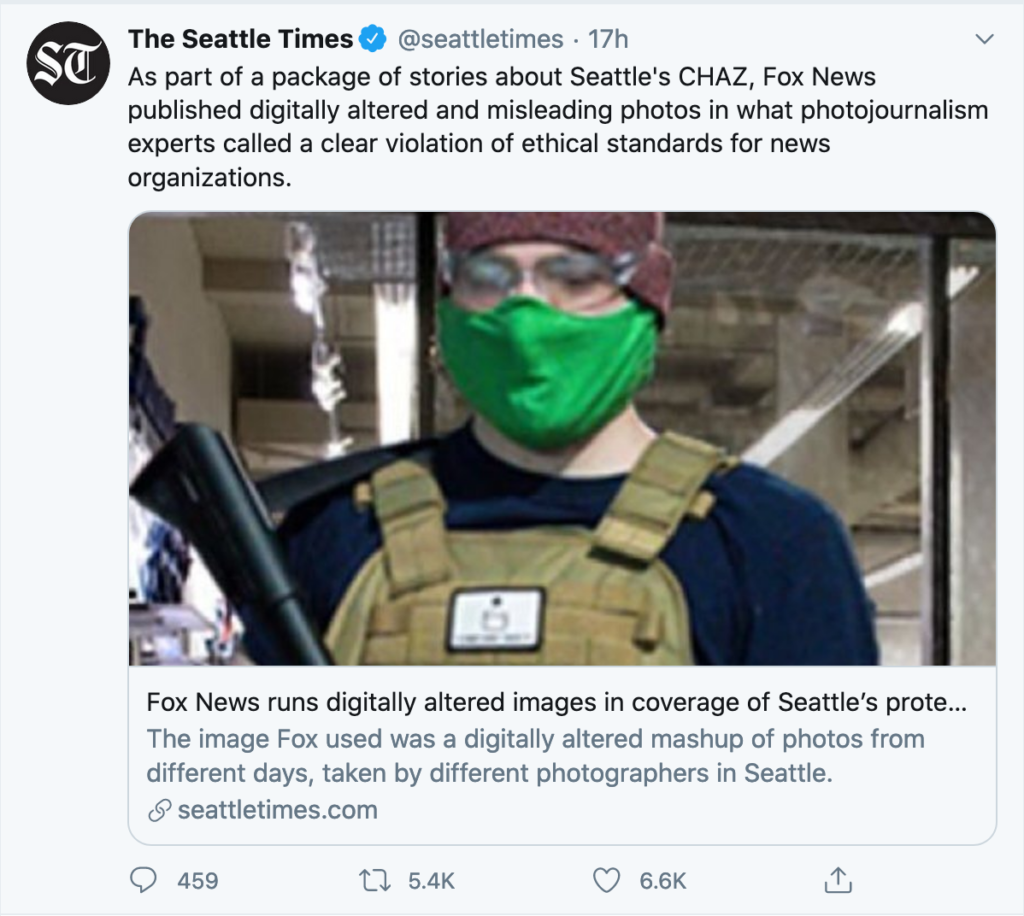 ---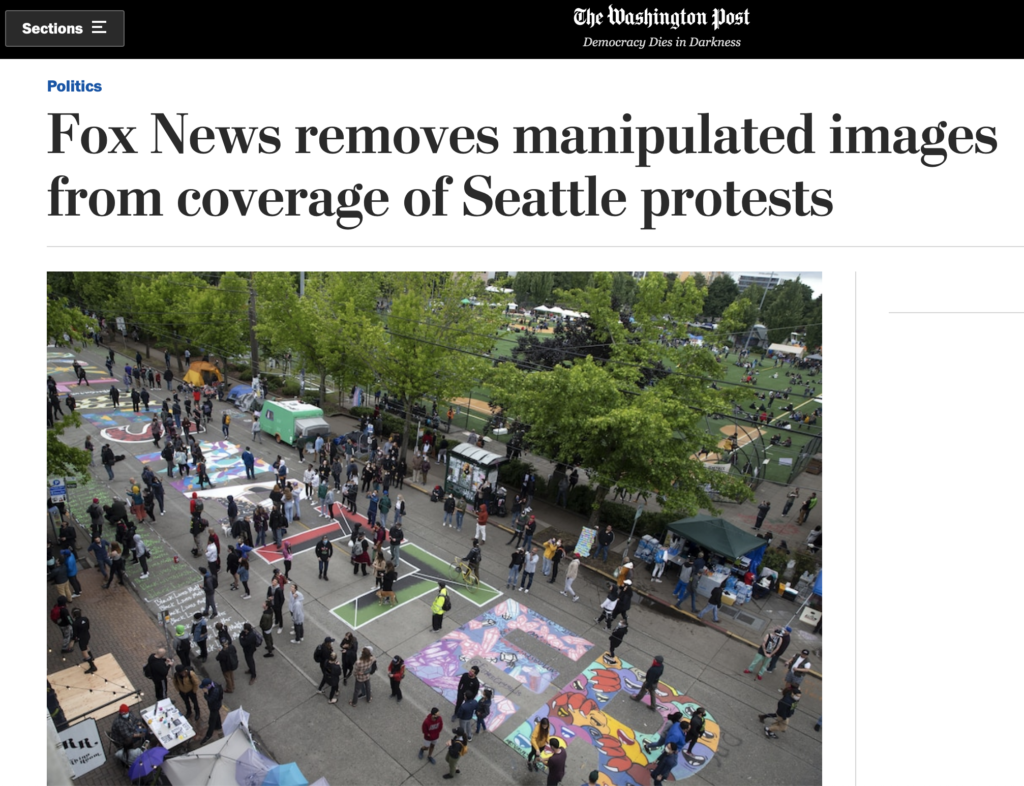 Fox News on Friday removed manipulated images that had appeared on its website as part of the outlet's coverage of protests over the killing of George Floyd, which has occasioned peaceful assemblies in cities across the country and, in Seattle, given rise to an unusual experiment in self-government.
The misleading material ran alongside stories about a small expanse of city blocks in Seattle that activists have claimed as the Capitol Hill Autonomous Zone.
The police-free environment has become an object of scorn for right-wing activists and President Trump. As protesters occupied a six-block area surrounding an abandoned police precinct — and as Seattle Mayor Jenny Durkan (D) promised to protect their First Amendment rights — Trump this week labeled them "domestic terrorists" and pledged to "take back" the city if state and local officials didn't.
The occupation has been peaceful, with activists from around the city visiting the car-free streets for political speeches, concerts and free food. But Fox's coverage contributed to the appearance of armed unrest. The misleading material spliced a June 10 photograph of an armed man at the Seattle protests with different photographs — one also from June 10, of a sign reading, "You Are Now Entering Free Cap Hill," and others from images captured May 30 of a shattered storefront and other unrest downtown.